Foglyn 1.5 (24th June 2009)
Foglyn 1.5 is ready to take advantage of latest Eclipse Galileo and Mylyn 3.2 releases!
New features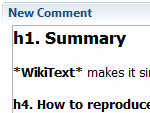 Foglyn 1.5 requires Mylyn 3.1 or later. Foglyn doesn't work with Mylyn 3.0 anymore.
WikiText is now supported in Foglyn. WikiText is another great feature of Mylyn (since 3.1). It allows you to add formatting to your comments using simple wiki-syntax. WikiText is supported when writing comment as well as for formatting comments entered by others. Wiki-syntax is easily readable even when not being formatted, so your teammates using FogBugz web interface can still read your comments.

Foglyn now recognizes more patterns in case hyperlinks.
When Foglyn cannot activate your "Working On" case on FogBugz repository, it will show a warning in Progress View. It is also possible to disable Working On synchronization now in preferences.
Last, but not least ... Foglyn is now included in Mylyn Connector Discovery, new feature of Mylyn 3.2 which aims to make installation of new connectors as simple as possible.