Foglyn 1.6 (27th July 2009)
Foglyn 1.6 introduces support for subcases and tags, two great new features of recently released FogBugz 7.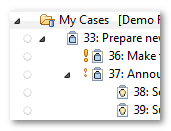 New features
Support for subcases: See your subcases in task list and change Parent Case in editor. (FogBugz 7 only)
Tags can also be edited and searched now. (Works with FogBugz 7 only)
It is now possible to specify which cases should be treated as complete. Three modes include "closed cases" (default), "closed or resolved cases" and "closed if mine, closed or resolved otherwise". Complete cases contribute to "tasks progress" and can be optionally hidden from Task List. Configuration is available in Repository Settings > Additional Settings.
"Working On" synchronization option has been moved from preferences page to repository settings. This option can now be configured separately for each repository.
Bugfixes in search dialog, attachment upload, and more.